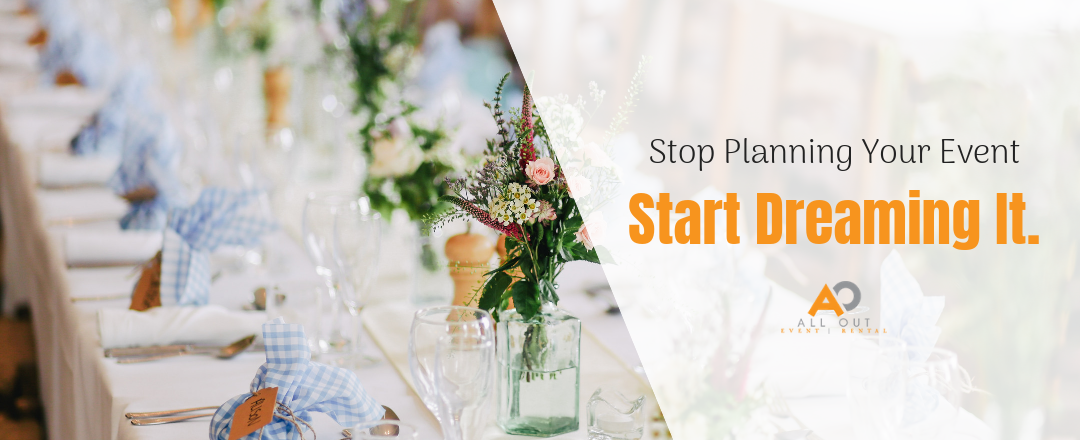 Stop Planning Your Event and Start Dreaming it
At All Out Event Rental we really go all out to make your dream wedding, or party, or a huge success. We always tell people to stop planning their event and begin dreaming it. Why?
Because there's no reason your fantasy event cannot be reality. You just need the right tools.
Our creative, knowledgeable staff will bring your vision to life from beginning to end. From tables and chairs, to sound systems and dance floors, we bring it in, set it up, and pack it out. Working with our professional team of creators and work crew is just the first step to begin dreaming your event.
Summer Event Portfolio
This stunning Summer event showcases our unique ability to organize an event. You can see that each is fully equipped with tables, chairs, a dance floor, bar, seating area, lighting, and other decor. Each event is planned and executed according to the customers' needs and creative vision. See what other customers, with our help, have designed in our portfolio.
When you were dreaming up your perfect event or wedding, how did it go? Did you create a list of must-haves, or did you just let your mind wander through all the other amazing events you've seen executed to perfection? After you've called All Out Event you can work with us to help you turn that nebulous idea into a tangible creation.
From chair covers, to dance floors, to air conditioning units and fans, we have every thing you need to turn your vision into a reality. At the end of the day, we want your event to reflect the feeling and ambiance you're seeking. We'll help fine tune, and offer professional suggestions for your design along the way.
Plenty of Design Options
Check out our large assortment of products, from bars, cooking and food prep, and everything in between. Make a list of the products you like so you don't forget.
These are only a very small sampling of the truly huge inventory we have on hand. We've done jungle-themed events, halloween parties, corporate events, and tons more. Don't be limited by what's considered "classic" or "traditional" when it comes to planning your event. Test the limits of what's possible – and don't forget to call All Out to help make it happen.
‹

Previous Post