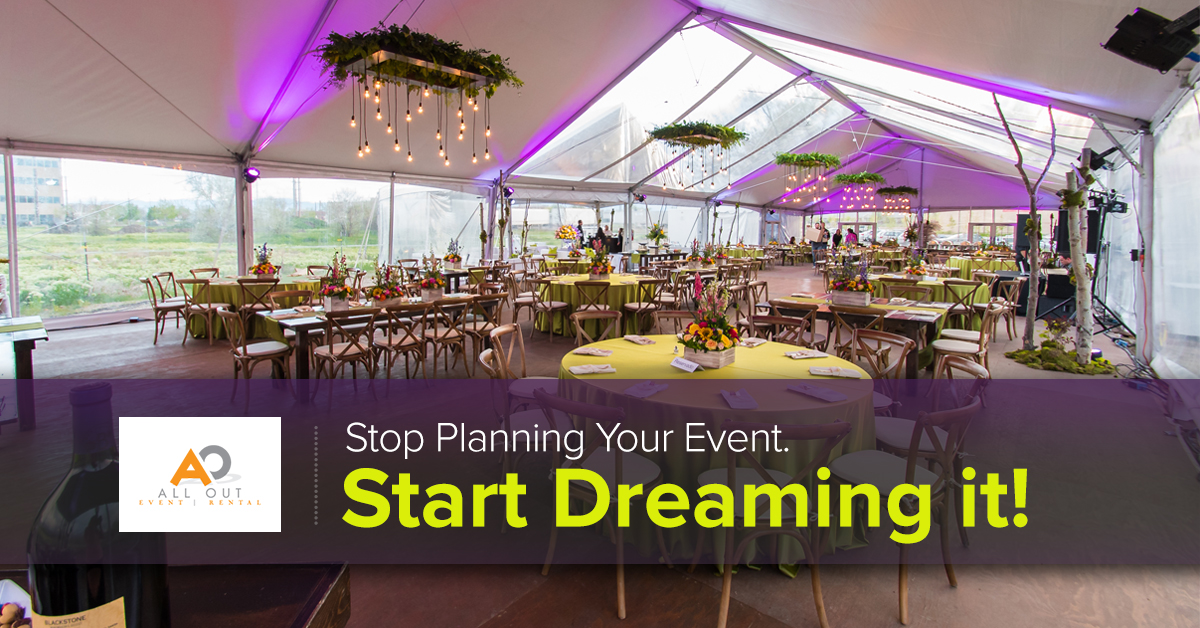 Stop Planning Your Event and Start Dreaming it
All Out Event Rental is Utah's premiere event planning service located in Salt Lake County. Our creative, knowledgeable staff will bring your vision to life from beginning to end. From tables and chairs, to sound systems and dance floors, we bring it in, set it up, and pack it out. Check out some of the work we're most proud of, see a sample of our products, and learn how to request a free, no obligation quote below.
Summer Event Portfolio
This stunning Summer event showcases our unique ability to organize an event, fully equipped with tables, chairs, a dance floor, bar, seating area, lighting, and other decor. Each event is planned and executed according to the customers needs and creative vision. See what other customers, with our help, have designed in our portfolio.
Also, check out what's being shared on All Out Event's Pinterest page.
Product Spotlight
From chair covers, to dance floors, to air conditioning units and fans, we have every thing you need to turn your vision into a reality. At the end of the day, we want your event, be it a corporate, wedding, or festival, to reflect the feeling and ambiance you're seeking. We'll help fine tune, and offer professional suggestions for your design along the way.
Check out our large assortment of products, from bars, cooking and food prep, and every thing in between. Make a list of the products you like so you don't forget.
Can't find what you're looking for? Contact us and we'll see if we can find it for you!
Get Your Free Quote
We work with any budget size and any event. We hope you've reviewed our products to get a better idea of what you're looking for. The next step is to calculate what it's going to cost. The "get your free quote" form, located at the bottom right of this page, is a no hassle, no obligation tool that will give you (and us) an idea of the scope and cost of your event. Just add your name, email address, and any thing you might need and we'll get back to you as soon as possible.
‹

Previous Post