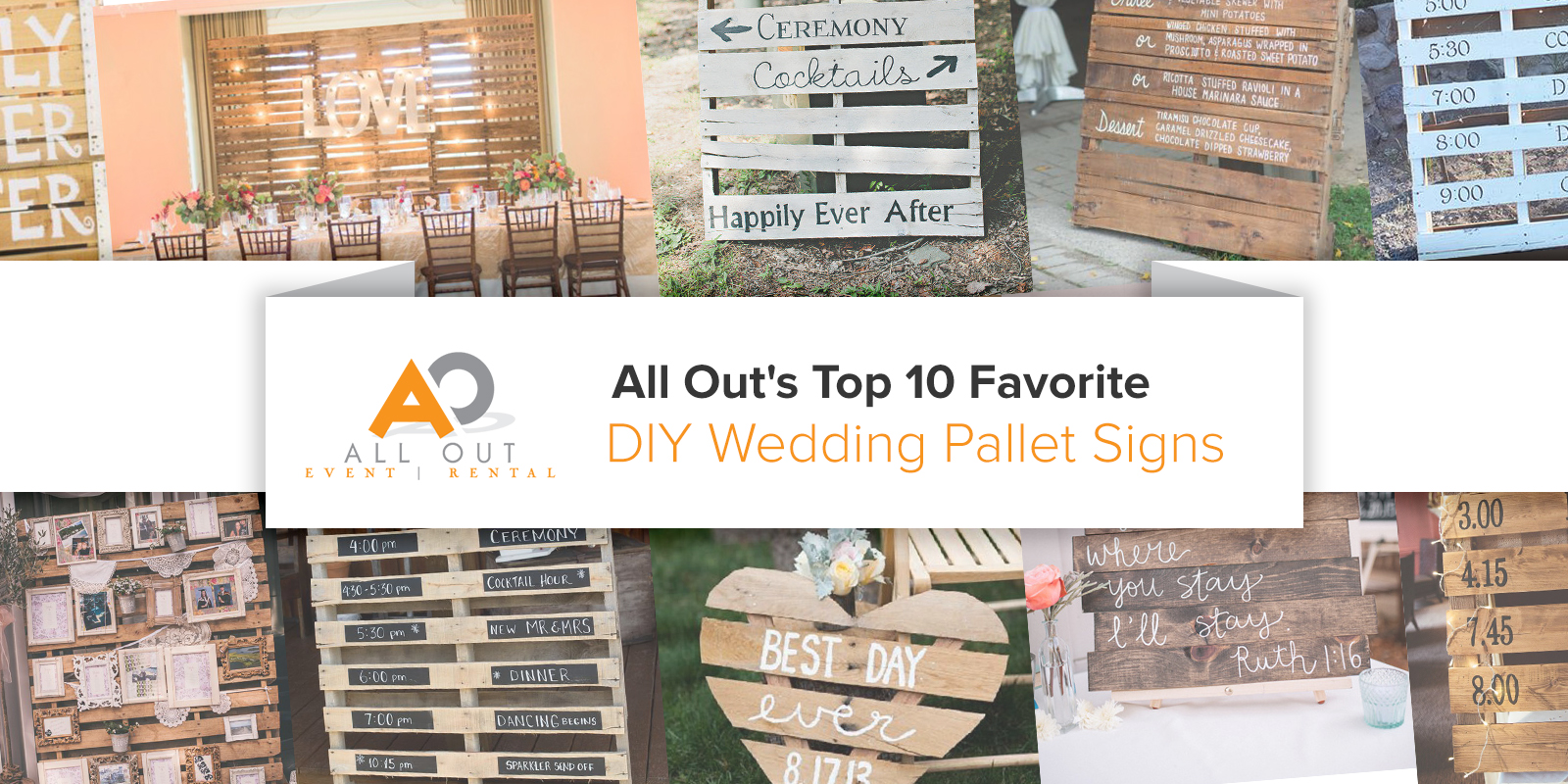 All Out's Top 10 Favorite DIY Wedding Pallet Signs
When it comes to your wedding there's no one who wants it to be perfect more than you and your significant other. No matter what you've planned or styled, a DIY wedding pallet can work for your big day! At All Out Event Rental we strive to provide our customers with the best in rental equipment, but did you know that you can do a large portion of the decor yourself?
In general, all pallet signs are the same. They will come in different sizes and sometimes shapes, but the concept of wooden plants stacked to create a pallet is the same. To make each of these you can either purchase a new wood pallet from a supplier, or you can find a used one from any local business (many businesses have their products delivered on wooden pallets, and most just throw away the pallet afterward). Another option is to purchase wooden planks that fit your desired width and height from Home Depot or Lowe's. Whatever you end up choosing, just make sure that you support the wooden planks on the back side with additional planks running the opposite way. This way they won't separate.
Wedding pallets are an easy way to capture your unique taste, and all they take is a little work! Below we have our top ten favorite ideas, but you can always peruse other ideas to find which style you prefer!
#1: Picture Collage

This pallet is a little large, but doesn't require as much DIY; at least for the actual pallet. Once you have the pallet you've chosen, simply hammer in small picture hanging nails wherever you would like to place a photo. These can be inside frames or just the picture by itself. Another cute idea, as displayed here, is to add doilies or small potted plants. This gives your pallet a very unique flair!
By displaying all of the pictures of you and your partner on this pallet, people can peruse them as they mingle at your wedding. Wedding videos have been done countless times, and by using a pallet to display your journey together instead you will give your guests a much more unique experience!
#2: A Schedule of Events

This simple white pallet board creates a clean and modern schedule of events for your wedding. Not only does it let your guests know where they need to be throughout the evening, it adds a lot of personality to your reception! People will appreciate the schedule, and it's so easy to make that you won't feel stressed while creating it!
The easiest way to create this is to keep your planks separated by a 2-3 inches and paint it white (obviously). Though you could choose any color, we like the contrast of the red text on the white background. You could easily lean this against a rock or building, and your guests will know exactly what you have planned for the evening!
#3: Dinner Menu

Painting your dinner menu on a pallet sign is a great way to let your guests know what to expect. It's easy to read and you can place a few of them around the tables so you don't have to pass out paper menus.
As you can see in this image, the wood doesn't look too painted or modern. For that rustic look, leave the wood aged and cracked. The lines of your menu items don't even have to be straight! To really capture that vintage feel, use a cursive font and don't fill the pallet with text top-to-bottom.
#4: Directions to Your Reception

This simple sign directing your guests to your reception hall or event center is cute and sets the tone for your wedding. You can hand-paint this sign or add a stencil. The easiest way to add the stencil is to print your desired text and place them on the planks, trace them with a pencil, and paint in the letters. Make sure you sand your wood thoroughly before you do this!
We like the border on this pallet, and you can easily do this by painting the supporting planks a different color, or you can choose the more difficult method and wrap cloth or metal around those supporting planks. By doing this it offsets your text and makes your pallet look more like a frame. Very easy and cute!
#5: Wall Frame

This large of a pallet can be difficult to find. Check any warehouses near you to see if they have any of these lying around. Most companies will be happy to give you one, and remember you can always check local dumpsters! We understand that might be less appealing to you, but keep in mind that this is a cheap and easy way to spruce up your wedding once you've cleaned it up!
String lights and hang large letters on your pallet to achieve this look! Another hack to keep your wood looking fresh but not too new is to paint it with half paint and half water!
#6: Cascading Quote/Scripture

This simple pallet is perhaps the easiest to make! All you have to do is purchase a few planks of wood, nail them together (keeping back supports in mind), and paint or stick on some text. We really like the way the text cascades to the bottom!
This small pallet can be placed on a buffet table or gift table. It adds a quaint aesthetic to any event!
#7: String Lights Announcement

By adding the name of the two individuals getting married, this pallet serves as both an event schedule for the evening, and a cute way to highlight the two being celebrated. Though this pallet is similar to #5, we like that the string lights wrap around the individual planks. This lights up your text as well as your event!
You can add a stand to the back of your pallet rather than leaning it against a wall to help your guests understand where to go for each event.
#8: Small Decorations

We like the general theme of wood in this particular wedding. How cute would it be to add small pallets in fun shapes to add decorations?
You can do this by taking smaller planks of wood and using a saw to cut them into the desired shape. Don't have a saw? You can still use small pieces of wood and nail them together. There's nothing wrong with squares!
#9: Chalkboard Strips

What a cute way to avoid painting! If you don't want to worry about stencils and paint and making a mess, simply glue chalkboard strips to your pallet board. Chalkboard can be found at most craft and hardware stores. All you have to do is cut it into your desired size and glue the edges to the pallet. Buy some chalk and you're on your way!
This is a creative way to add your unique touch to your wedding and reception. And bonus, this allows you to change the time and event of your wedding at any time!
#10: Event Directions

If you have a large event planned, with a lot of ground for your guests to cover, what a good way to let them know where everything is! Make sure you figure out where you will be placing your pallet sign before you paint or write your directions on it. Don't want to lead them in the wrong direction and have to start over!
By placing this at the entrance or center of your wedding you will help your guests a lot! They will know where to go and not miss a single moment of your special day!
Let All Out Help Make Your Wedding Perfect
We want your wedding day to be a day you remember with fondness for the rest of your life! Use these DIY wedding pallet signs to spruce up your wedding, or even to set the theme! Now that you know what you'd like your wedding to look like, we are happy to help you plan the rest! You can contact us, and we will provide you with a personalized quote to help you achieve your perfect day!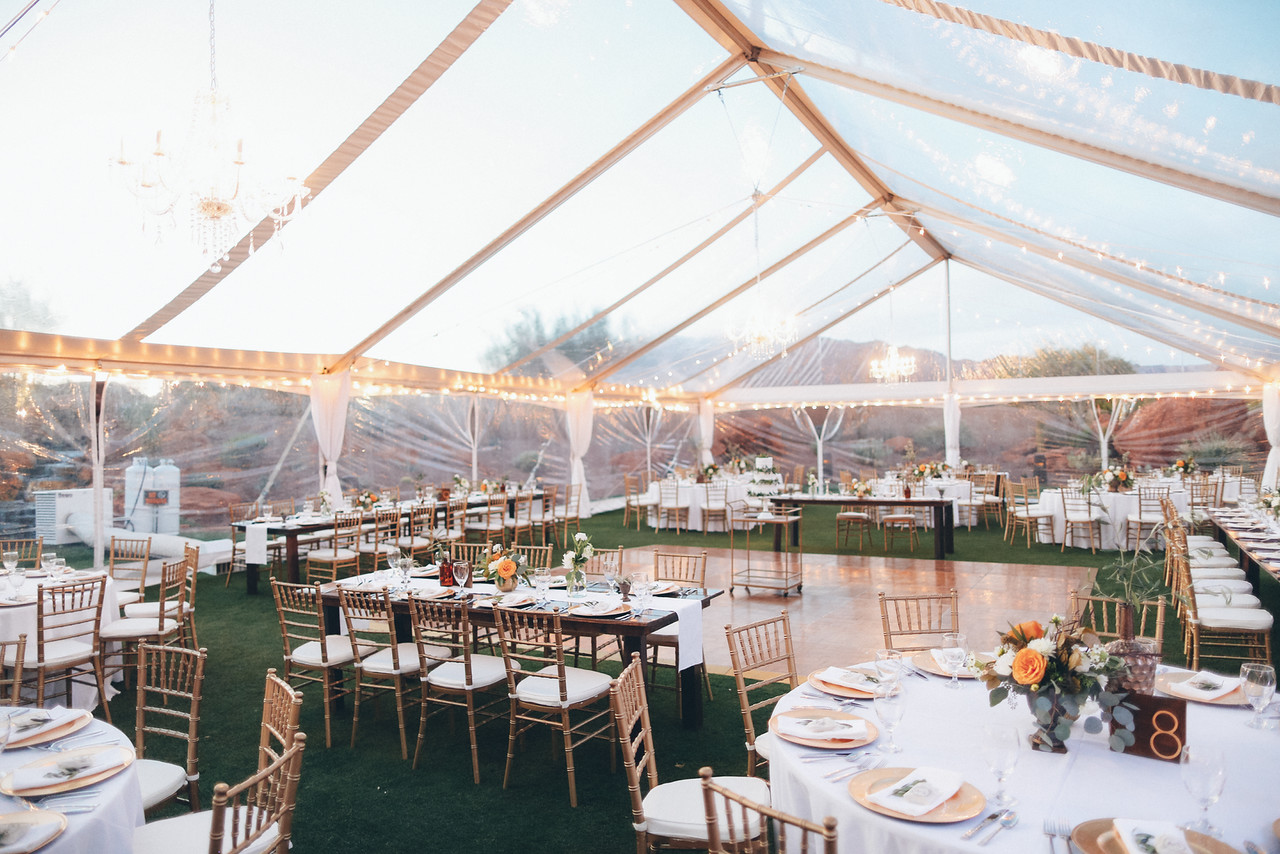 ‹

Previous Post