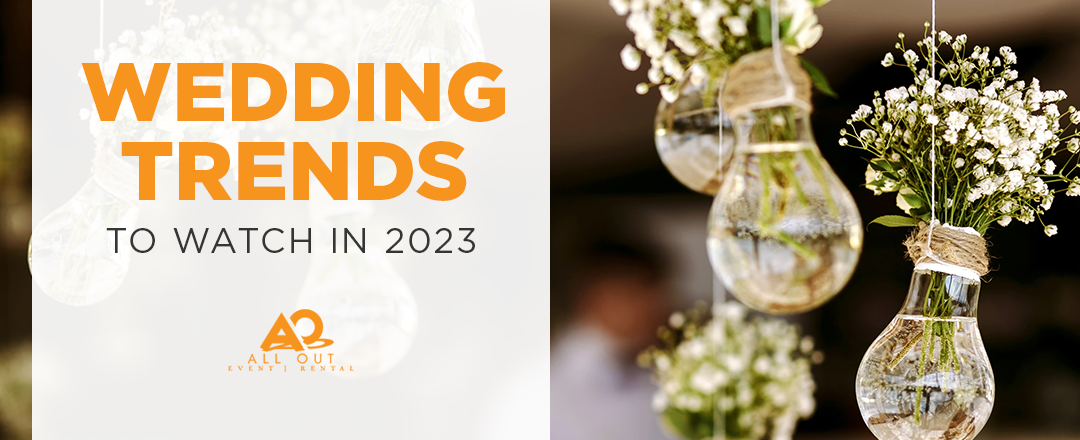 Wedding Trends to Watch in 2023
As we move into 2023, it's time to start thinking about the latest wedding trends that will shape the industry. While some trends from previous years will continue to remain popular, there will always be new and exciting ideas emerging. In this blog, we'll explore some of the top wedding trends that are expected to gain traction this year. Whether you're planning a traditional wedding or looking to create something unique and modern, we're sure there's a trend that appeals to your style and vision.
At All Out, we stay up to date on the latest wedding trends and offer a wide range of rental options to help bring your vision to life. Our team can work with you to create a personalized rental package that fits your needs and budget, ensuring that your wedding day is everything you've dreamed of and more.
Let's dive into the top wedding trends to watch in 2023 and get inspired for your own special day!
Bright And Bold Colors
​​In 2023, expect to see bright and bold colors take center stage in wedding decor. Couples will be opting for vibrant shades of pink, orange, and yellow, as well as deep jewel tones like emerald and sapphire. Bold hues will be incorporated into everything from floral arrangements to bridesmaid dresses, making for a wedding that's full of life and energy.
Minimalist Weddings
While bold colors are making a name for themselves in 2023, so is neutrality and minimalism! Couples are opting for clean lines and small details, embracing the simple yet elegant decor. The goal of this is to let the natural beauty of the venue shine through. This trend is perfect for couples who want a timeless and sophisticated wedding that's simple and not too over-the-top.
Sustainable Weddings
Eco-conscious couples are making sustainability a priority in their wedding planning. In 2023, expect to see more weddings incorporating eco-friendly practices like composting, using recycled paper for invitations, and opting for locally sourced and organic food. Here are some ideas to incorporate into a sustainable wedding:
Choose a venue with green practices, such as solar-powered energy or rainwater harvesting
Choose flowers and decor that are in season and locally grown, to reduce transportation emissions
Donate leftover food to a local food bank or homeless shelter
Intimate Weddings
After the pandemic forced many couples to downsize their weddings, there's a growing trend towards smaller, more intimate celebrations. In 2023, expect to see more couples opting for micro-weddings and elopements – with just their closest friends and family in attendance. Smaller weddings are perfect for couples who want a more meaningful experience, without the stress and expense of a larger event.
Small, Personalized Details
Small and personalized details will be a big trend in weddings this year. Couples are getting creative with their decor and opting for unique and personalized touches that reflect their relationship. From custom cocktails to monogrammed napkins, small details can add a personal touch to your wedding!
Let Us Help Plan Your Wedding!
At All Out, we offer a wide variety of rental options to help bring your wedding vision to life. Whether you're looking for classic and elegant tableware, bold and colorful linens, or unique decor and lighting, we have everything you need to create the perfect wedding ambiance. Our team of experts can work with you to create a personalized rental package that fits your needs and budget, ensuring that your wedding day is everything you've dreamed of and more.
We hope this blog has given you some inspiration for your wedding planning in 2023. Remember, the most important thing is to create a wedding that truly reflects you as a couple and celebrates your love in a way that's meaningful to you. With these trends as a starting point, you can create a wedding that's unique, beautiful, and unforgettable.
So, start planning your wedding today and make sure to keep these trends in mind. With the help of All Out, you can create the perfect wedding that you and your guests will cherish for years to come.
‹

Previous Post