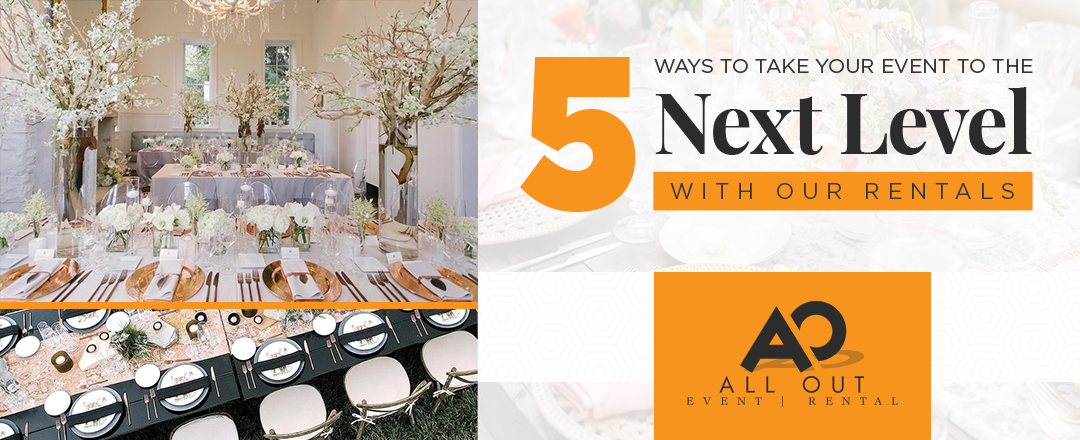 5 Ways to Take Your Event to the Next Level with our Rentals
Welcome to All Out Event Rental, your partner in creating unforgettable events! We understand that planning an event can be both exciting and challenging. Whether you're organizing a wedding, a corporate gathering, or a casual get-together, there's one common goal: to make it a resounding success that leaves lasting memories.
At All Out Event Rental, we're here to help you take your event to the next level. We offer a wide range of rental options to elevate the ambiance and ensure your guests have a fantastic time. From stylish seating arrangements to top-notch sound systems, we've got you covered.
In this blog post, we're going to dig a little deeper into the art of event planning, focusing on the 5 ways you can enhance your event with our rentals. Whether you're a seasoned event planner or this is your first time organizing an event, we've got insights and tips to share that will be helpful to you.
Unlocking the Potential of Your Event in 5 Ways
Let's explore how All Out Event Rental can elevate your event to the next level. We've compiled a list of 5 ways to enhance your event experience with our wide range of rentals. These tips can be tailored to suit your specific needs for whatever event you plan to coordinate.
1. Incorporate Stylish Seating
Comfortable and stylish seating is essential for creating an inviting atmosphere. Whether it's elegant Chiavari chairs for a wedding or contemporary lounge seating for a corporate event, our rental options are designed to impress.
2. Create Unique Table Settings
Transform your tables into works of art with our exquisite table settings. From elegant tablecloths to chic centerpieces, we have everything you need to make your dining area a visual delight.
3. Elevate Your Lighting
Lighting sets the mood for your event. Our lighting options, from chandeliers to string lights, can create a magical ambiance, whether you're hosting an evening gala or a daytime celebration.
4. Embrace Elegant Décor
Turn your event space into a canvas for creativity. With our decor rentals, you can add a touch of elegance or a burst of color to match your theme.
5. Explore Fun Entertainment Options
Entertainment is a key ingredient for any successful event. Consider renting a dance floor, photo booth, or games to keep your guests entertained and engaged.
Now lets explore those 5 ways with more detail, tips, and tricks.
Incorporate Stylish Seating
The seating at your event plays a dual role: it must be functional and comfortable while also enhancing the overall aesthetics of the space. All Out Event Rental provides a range of stylish seating options to suit various event types.
Chiavari Chairs: These elegant chairs are a favorite for weddings and upscale events. With their classic design and multiple color options, they can easily match your event's theme and decor.
Banquet Chairs: Ideal for larger gatherings, these chairs offer comfort and versatility. Their simple yet sophisticated design complements a variety of event styles.
Lounge Seating: For a more relaxed and social atmosphere, consider adding lounge seating to your event. Ottomans, sofas, and coffee tables can create cozy conversation areas for your guests.
Bar Stools: If your event includes a bar area or high-top tables, bar stools provide the perfect seating solution. They come in various styles to fit your event's ambiance.
Stylish seating not only adds a touch of sophistication to your event but also ensures that your guests are comfortable throughout the proceedings.
Create Unique Table Settings
A beautifully set table can instantly elevate the dining experience at your event. All Out Event Rental offers a variety of table setting options that can transform your tables into works of art.
Table Linens: Choose from a wide range of table linens, from classic white to vibrant colors and patterns. The right tablecloth can set the tone for your event, whether it's a formal dinner or a casual brunch.
Tableware: Impress your guests with high-quality tableware, including elegant dinnerware, flatware, and glassware. Match the tableware to your event's theme or color scheme for a cohesive look.
Centerpieces: A stunning centerpiece can be the focal point of your table setting. Whether it's floral arrangements, candles, or decorative pieces, our rentals offer a variety of options to suit your style.
Chairs and Chair Covers: Don't forget about the chairs. Chair covers and sashes can add a touch of elegance and tie the entire table setting together.
Napkins and Napkin Rings: Small details can make a big difference. Coordinated napkins and napkin rings add a finishing touch to your table settings.
Elevate Your Lighting
Lighting is a powerful tool that can transform the mood and atmosphere of your event. All Out Event Rental offers a diverse selection of lighting options to help you create the perfect ambiance, no matter the occasion.
Chandeliers: For an elegant and luxurious touch, consider renting chandeliers. These timeless fixtures can be the focal point of your event space, adding a touch of grandeur.
String Lights: If you're planning an outdoor event or a more relaxed gathering, string lights can provide a warm and inviting atmosphere. They create a magical, whimsical setting.
Uplighting: Uplighting is a fantastic way to highlight architectural features or add a pop of color to your event space. It's a versatile option for customizing the look and feel of your venue.
Pin Spot Lighting: Perfect for highlighting specific details, pin spot lighting can draw attention to centerpieces, artwork, or other focal points at your event.
LED Dance Floor Lighting: Take your dance floor to the next level with dynamic LED lighting. It adds energy and excitement to the dance area, making it a central hub for your guests.
The right lighting can completely change the ambiance of your event. Whether you want a romantic, intimate setting or a vibrant, lively atmosphere.
Embrace Elegant Decor
Decor plays a pivotal role in shaping the look and feel of your event space. All Out Event Rental offers a wide array of decorative items to add elegance and personality to your event.
Table Centerpieces: Elevate your tables with striking centerpieces. Whether you prefer floral arrangements, candles, or unique decor items, we have options to match your event's theme and style.
Linens and Drapery: The choice of linens and drapery can transform your event space. From classic and formal to modern and bold, our collection of linens and drapery allows you to customize your venue's aesthetics.
Backdrops: Create eye-catching focal points with backdrops. They can serve as the perfect backdrop for photographs, add elegance to the head table, or simply enhance the overall decor.
Signage and Displays: Signage and displays not only guide your guests but also contribute to the event's decor. Choose from a variety of styles and materials to match your event's theme.
Candles and Lighting: The right lighting elements can create a warm and inviting atmosphere. From candleholders to lanterns, we offer various lighting options to enhance the decor.
Embracing elegant decor is a fantastic way to personalize your event and infuse it with your unique style.
Explore Fun Entertainment Options
Entertainment is a key ingredient for making your event memorable and enjoyable for your guests. All Out Event Rental offers a range of entertainment options to add a fun and engaging element to your gathering.
Dance Floor: A spacious and well-lit dance floor is a must if you want to get everyone moving. We provide dance floors in various sizes and styles to fit your event's needs.
Games and Activities: For a more interactive and engaging event, consider adding games and activities. From cornhole to giant Jenga, these can keep your guests entertained for hours.
Karaoke Machines: If you want to add a dose of entertainment with a touch of talent, consider renting a karaoke machine. It's a fantastic way to get your guests involved and having a blast.
Audio and Visual Equipment: Ensure that your event has high-quality audio and visual elements, from projectors for presentations to screens for showing videos or photos.
Adding fun entertainment options to your event can create a dynamic and engaging atmosphere that your guests will remember for years to come.
Time to Create Your Vision
In the world of event planning, the difference between a good event and a truly outstanding one often comes down to the details. All Out Event Rental is here to help you transform your vision into reality and make your event exceptional.
As you plan your event, we invite you to explore the wide array of products and services available at All Out Event Rental. Our website, products, showcases our extensive inventory, giving you a glimpse of the possibilities to enhance your event.
We're not just here to tell you about our services; we want you to hear from those who have experienced them firsthand. Check out our customer testimonials to learn about the positive impact we've had on numerous events and gatherings.
Ready to take your event to the next level with All Out Event Rental? Feel free to contact us to discuss your event needs and get started on the journey to creating a remarkable and unforgettable event experience.
‹

Previous Post