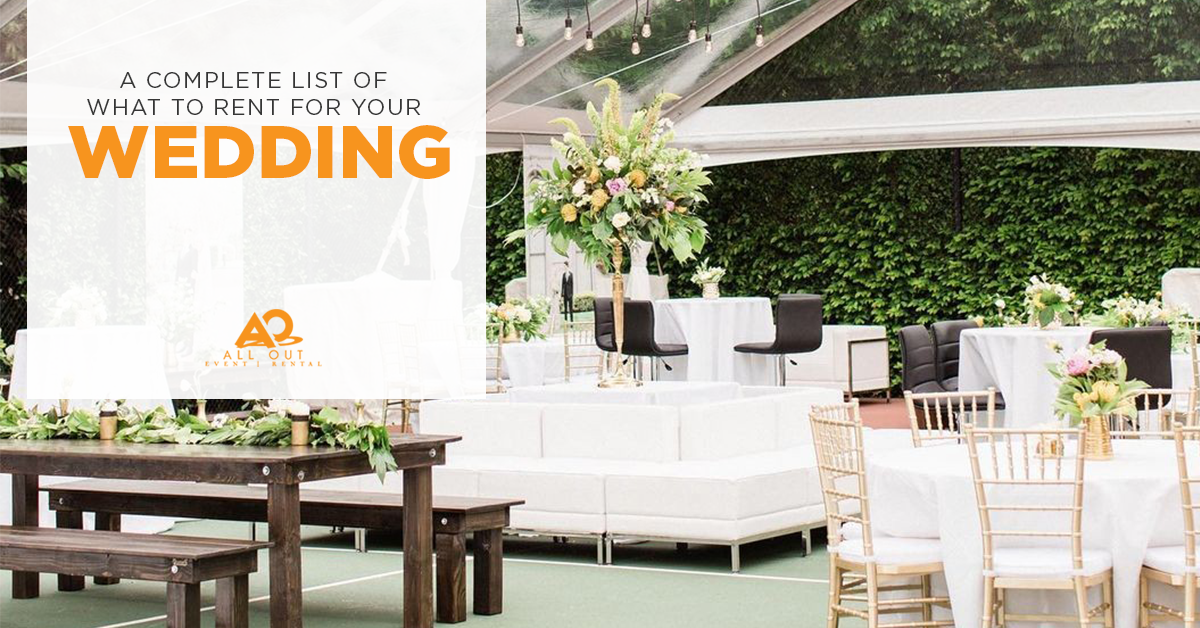 A Complete List of What to Rent for Your Wedding
With the wedding season approaching, it's time to start planning for your big day! Whether you are at the initial stages of setting up your ceremony or exploring ideas that can create a memorable reception for you and your loved ones, there are many factors to consider when bringing your dream celebration to life.
Every wedding is unique and has different requirements, so it is important to have a checklist to help you get started and ensure that everything goes as planned. Here are some essential items that you are going to need to rent to set up your wedding successfully.
A Canopy or Tent
If you are planning for a backyard or any style of outdoor wedding, then pitching a tent is a great way to protect and shelter your guests. All Out Event Rental offers a variety of canopies and tents to choose from that go with any theme or season for your wedding day. Here are some tips on how to find the perfect tent for your wedding:
Consider how many guests you plan on inviting to help determine the size needed

Know your style

Find the right

accessories

Consider necessary

heating and cooling
All Out Event Rental offers a variety of wedding packages to help you get started, allowing you to customize your venue to meet your needs and budget.
Dance Floor
Depending on how many guests will be attending your special celebration, this will help you to determine the best size for your wedding's dance floor.
There are a variety of options of dance floors to choose from, that allow you and your guests to dance comfortably and freely. Don't forget to start practicing your father-daughter dance early to create an unforgettable wedding memory!
Tables and Chairs for Guests
It is easy to forget a few items on your wedding day and not have enough chairs for guests without planning the right amount of tables and chairs. Tables and chairs are necessary for your guests to sit during the ceremony and participate in the festivities.
When deciding how many tables you should have, here are some things to consider:
Dining tables with seating assignments

A table for gifts and cards

Cake and dessert tables

Guest book and party favors
As you work closely with your wedding planner you can gain a better understanding of your schedule, guest list, and overall vision for your venue. Knowing these factors can assist you in deciding on the right amount of tables and seating arrangements for your big event.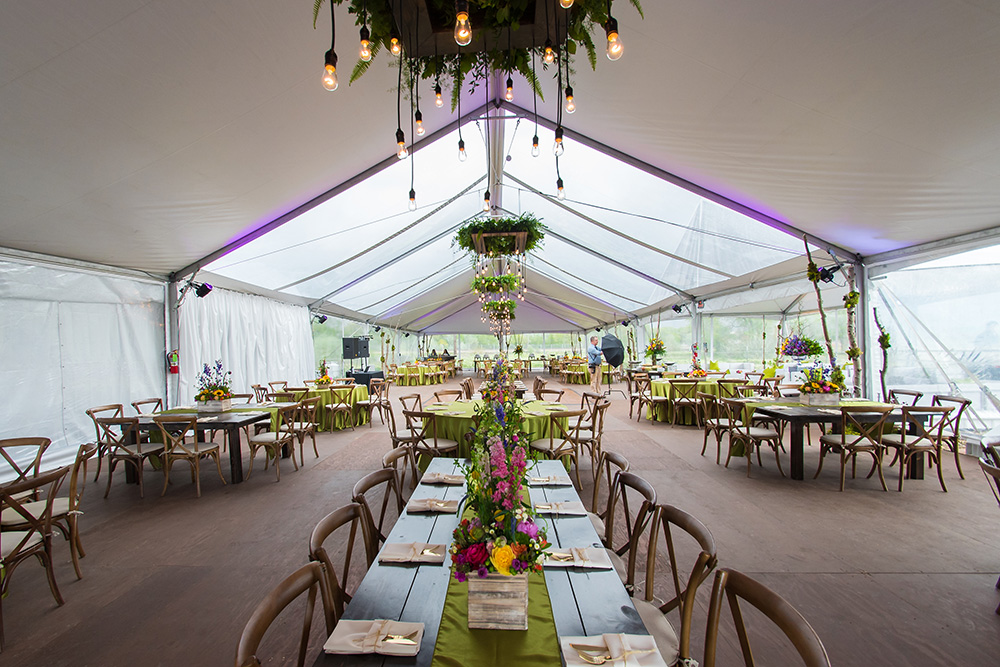 Bar
You may need to rent a bar setup if your venue does not already have its own built-in bar. Whether you are going for alcoholic or nonalcoholic beverages, your caterer or rental company are the best sources of help in setting up the right bar for you to celebrate with your loved ones.
Furniture for Lounging
If you want to create a less formal and laid back wedding space for wedding guests to relax and get to know each other before sitting down to eat, then a lounging area may be a great addition to your venue.
Event rental companies can provide cozy couches, side chairs, coffee tables, ottomans, and pillows that can add coziness and a sense of home to your wedding style.
Power Generators
From DJ sets to lighting and music, a generator or other power source is an effective way for adding electricity to your wedding and keeping your celebration running smoothly and guests entertained.
Lighting
The right lighting can bring your event to life! There are a variety of lighting sources and styles to choose from. Your choice of lighting can depend on the type of mood you are hoping to create for your wedding.
Dinnerware, Linens, and Napkins
A celebration isn't complete without food and drinks! Flatware, glassware, china, and banquet linens can provide you with the perfect setting for a beautiful dining experience.
Picking out fabrics to go with your theme and wedding colors can help you to feel more confident in your choice of decorations.
Floral Decor
Fresh flower arrangements can make your wedding day look even more stunning. Adding a variety of color and design is a great way to make your venue really stand out. On that note, you are going to want the right amount of vases and other floral accessories to create the perfect look.
Your florist can help you to come up with the best type of style to meet your needs and budget. They can give you advice on what items to rent that will showcase your flowers in the best possible way.
Rent With All Out Rental in Utah
Are you ready for a Utah celebration that you don't want to forget? Located in South Midvale, Utah All Out Event Rental is here to bring your special moment to life. Let us do the setting up for you and create your desired venue, so you can focus on making memories and celebrating with friends and family.
Start planning your wedding today! If you are looking to plan out other special events this year, contact us today to help you get started. Go all out with us!
‹

Previous Post