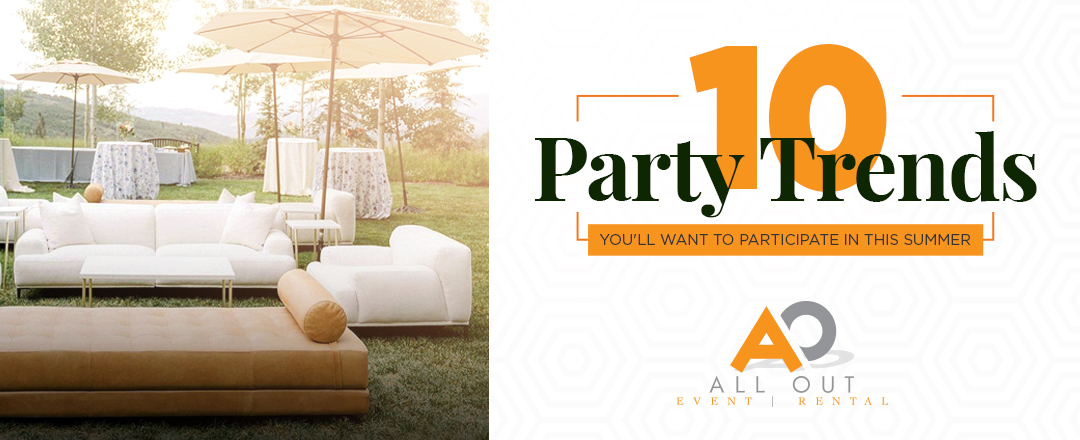 10 Party Trends You'll Want to Participate in This Summer
Summer is here and now is the perfect time to celebrate! Whether you are planning a backyard barbecue, or beach bash, keeping up with the latest trends during this summer can create an even more memorable experience for both you and your guests. At All Out Event Rental, we have the perfect guide for you to get started on all your party planning. Create gorgeous venues, add fun decor, and live entertainment to your summer festivities. Check out 10 party trends you will want to participate in when planning out your summer events!
1. Tents and Canopies
Enhance the ambiance of your next summer party with a stunning tent or canopy that can really make a statement. Beyond offering shade and protection from the sun or rain, the right covering can transform your venue into an elegant gathering space. Our tent and canopy rentals are available in a variety of sizes and styles, perfectly designed to meet your party needs.
Whether your goal is to create a rustic garden party or vintage carnival theme, our tent rentals can bring your vision to life! In addition to your preferred style, we offer a range of accessories that can complete your tent rental. We are here to help you create a memorable and stylish event!
2. Outdoor Lounge Areas
Create a cozy and inviting outdoor lounge area using comfortable seating options such as outdoor sofas, bean bags, and hammocks. Lounge furniture can encourage a relaxing space for guests to unwind and enjoy the sunny summer weather. Imagine creating a boho themed party with our trendy furniture rentals, ottomans, and vibrant throw pillows!
3. Live Entertainment Experiences
You can't have a party without music! Renting out a stage or dance floor is perfect for live bands or DJs to perform at your next summer event. Once you know what kind of theme you are looking for, this will help you to determine the best kind of entertainment and music for your guests.
4. Trending Decor
Complete your party venue with the right kind of lighting and decorations. If you are going for a camping themed party, then it might be a good idea to rent out a stone or propane fire pit for roasting s'mores!
A disco ball or chandelier can determine your party's overall theme and style. Remember, nothing kills a party faster than when your power goes out, so be sure to rent out a generator. A generator is a great way to keep the lighting and music going for the entire celebration!
5. Food Stations and Cocktail Bar
Food plays a very important role in enhancing your guests' social experience. Create a dedicated bar area where guests can enjoy light bites accompanied by paired drinks and cocktails. Get creative by setting up interactive food stations, such as a fondue fountain or do it yourself pizza.
6. Outdoor Movies
Get the audio and visual equipment you need to enjoy a movie night under the stars! Set up a projector in your backyard and hang up a white sheet. If you are looking for a more casual event, then a movie with friends is the way to go!
7. Keeping It Cool!
Keep it cool this summer with a backyard pool party! Provide funky pool floats and fun tropical drinks. You can make it feel like you are at the beach without leaving Utah. Come up with an awesome playlist and create summer vibes for your guests. A slipping slide is another fun way to stay cool. For an even more exciting activity, add paint or foam!
We also offer cooling units and fans so your guests don't have to worry about the summer heat this year.
8. Elegant Dinner Parties
Summer evening dinner parties are going to be a huge hit this year! Make your dinner parties extra special by inviting guests to dress up. Set up beautifully arranged tables with quality glassware, china, silverware, and linens. Complete the look with floral decorations and centerpieces.
9. Balloon Garlands
Balloon garlands were very popular last year in 2022, making them an absolute must-have at summer birthday parties in 2023! When it comes to decorating, there is so much you can do with balloons. From stunning arches and eye catching backdrops to elegant centerpieces, balloons provide limitless possibilities. With their vibrant colors, various shapes, and sizes balloons offer that extra touch of joy and festivity to any gathering. Leave your guests in awe this year!
10. Fun Activities
Keep your guests entertained with different activities. Set up an axe throwing station, hire a tarot card reader, or offer henna tattoos. Check out our specialty items to see what activities we have to offer, like our extra large Jenga set!
Plan Your Summer Party With All Out Event Rental
Go all out with All Out Event Rental and plan your next party! We have been serving Utah for the past 25 years and are experienced in the event planning industry. No matter how big or small your event may be, we are here to plan out every step of the way. Contact us for your wedding, anniversary, birthday party, or corporate events.
‹

Previous Post